By Singles Pleasing the Lord

For Purpose Clinic Participants - Any three of these resources are $30 through March 15, 2018. Kingdom Communication Why In the World am I Single? Lord Help Me I have Been Rejected! Lord Help Me I Am Afraid

[MORE]

Price: $88.00

Sale! $30.00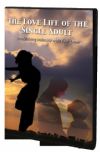 The Love Life of the Single Adult - Book
This book is for every single adult that is longing for a genuine love relationship. Discover how to eradicate loneliness and lust. Discover what to do when you want somebody to hold you and care and how to stop being desperate for relationships.
[MORE]
Price:
$10.00

How To Believe God For A Marriage Partner
Find out how to take your desire for a marriage partner and turn it into a manifested reality. Get a marriage partner from God and get that person Go...
[MORE]
Price:
$15.00

Lord Help Me I Have Been Rejected!!!
Debbie Adebayo understands rejection. She experienced rejection in her mother's womb, repeated rejections during her season of singleness with relatio...
[MORE]
Price:
$25.00
Sale!
$15.00

Why In The World Am I Single Anyway?
Have you ever wandered what God was thinking when He made you single. Are you fed-up with the single life and want out. This teaching series is a m...
[MORE]
Price:
$28.00
Sale!
$10.00